Bring a daily dose of health to your life with our copper water bottles combo of 1000 and 600 ml plain leak-proof. Copper is one of those metals which have always been a favorite of the human species for making tools and utensils. In fact, an entire era has been dedicated to the metal (Copper Age), which is enough to understand its importance. But with the advancement of techniques and technology copper utensils became a thing of the past and new metals such as stainless steel became more popular.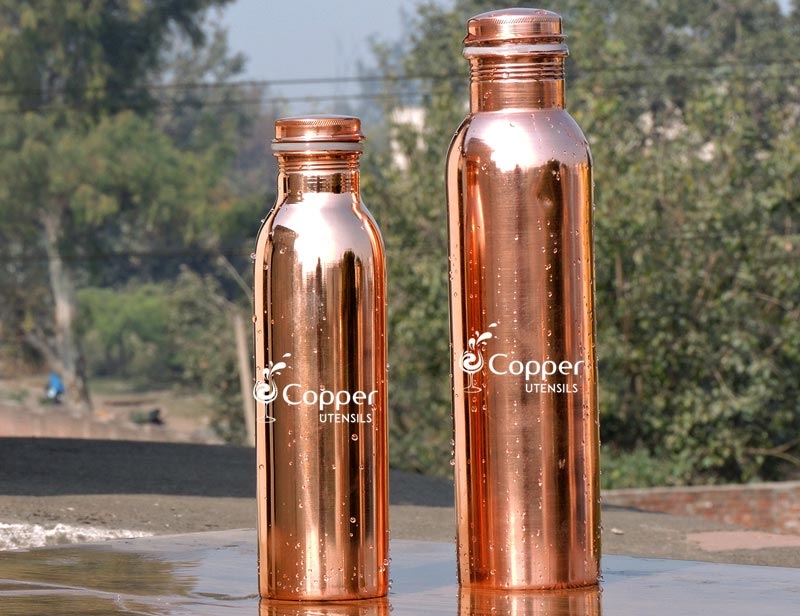 But with recent scientific studies on copper, people are becoming more and more aware of the hidden benefits of copper and are trying to incorporate it into their daily routine. Not only copper has some amazing health properties to contribute, it is also a sustainable option when compared to plastic which is one of the most common options for storing water. Unlike plastic, copper does not leach any harmful chemicals or toxins into the water. Instead, the oligodynamic nature of copper helps in killing the harmful germs and bacteria present in the water and make the water suitable for consumption.
Keeping in mind the drawbacks of plastic water bottles and the health benefits of copper water bottles, we have launched the perfect combo of 1000 and 600 ml plain leak-proof copper water bottles. This combo consists of two pure copper leak-proof plain water bottles, one each of 1000 ml and 600 ml. These bottles are joint-less and thus leak-proof which makes them perfect for traveling or carrying them in your bag. Apart from the health benefits, the chic and simple design of the bottles will compel you to carry these to your office, gym, yoga sessions or even a simple day out. Just fill the copper water bottle with filtered water at night and in the morning your copper treated water will be ready to be consumed for the entire day.